Latest mobile processor takes the world by storm.
Intel disclosed details of its newest microarchitecture, on August 11 2014. It is optimized with Intel's 14nm manufacturing process. These technologies will work together to provide high-performance and low-power capabilities which will serve a vast array of computing needs and products.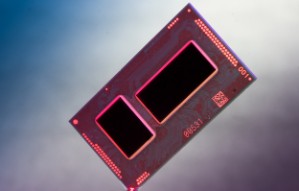 Key points of Intel's latest endeavor:
Details of the microarchitecture of the Intel® Core™ M processor have been disclosed by Intel. The first processor that will be manufactured using 14nm.
The merging of the new microarchitecture and manufacturing process cause manufacturers to review the current form factors
The thermal design point has been reduced by two by Intel's architects and chip designers , in comparison to the previous generation of processors. Similar performance and improved battery life have been observed..
The capabilities of the 14nm production process can be used to its full advantage by the new microarchitecture.
The world's first 14nm technology was created by Intel. It uses second-generation Tri-gate (FinFET) transistors.
A wide range of high-performance to low-power products will be manufactured using the new 14nm technology.  These include servers, personal computing devices and the "Internet of Things".
Intel expects the new line of products that will be based on the Intel® Core™ M processor, will be available for purchase in the first half of 2015, following broader OEM availability.
Intel claims that its mobile processor will provide the following benefits:
The 14nm chip will take up half the space compared to its predecessor, the 22nm
Broadwell chips will be about  30% thinner.
OEMs to make devices which are under 9mm thick.
Broadwell chips generate about two times less Thermal Design Point (TDP), which is the heat generated by the CPU.
The Broadwell-Y chip will deliver about double the performance per watt in comparison to the Haswell.
Using less fins which are grouped tighly together, the Broadwell will have improved voltage performance and lower leakage.
"…the combination of our design expertise with the best manufacturing process – makes it possible to deliver better performance and lower power to our customers and to consumers," said Rani Borkar which is Intel's vice president and general manager of product development. "This new microarchitecture is more than a remarkable technical achievement. It is a demonstration of the importance of our outside-in design philosophy that matches our design to customer requirements."