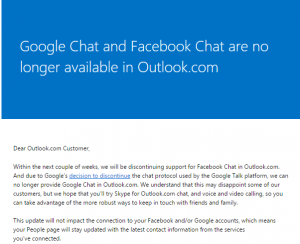 Guess it's time to say goodbye to Google Talk and Facebook chat in Outlook.com because Microsof's webmail app will be all about Skype.
Microsoft has made the decision to pull the plug on Google Talk and Facebook chat in Outlook.com. The company recently sent out email notifications to Outlook.com users to let them know about the change.
Microsoft does not offer an explanation as to why it has decided to end Facebook Chat integration. The company decided to remove Google talk due to "Google's decision to discontinue the chat protocol used by the Google Talk platform."
In May 2013, Google started to move away from Google Talk in favor of Hangouts. The irony is that Google added Google Talk to Outlook.com in the same month. Google Talk uses the open XMPP protocol while Hangouts is proprietary and unavailable to multi-chat clients. Google has continued to support Google Talk and it has et to make an anouncement when it might shut down the XMPP-based service. Facebook is also discontinuing its use of the XMPP protocol
Microsoft added Skype integration to Outlook.com in August 2013.
The impact on users
Microsoft has stated that the end of Google Talk and Facebook chat in Outlook.com will happen "within the next couple of week." The end of the third-party chat will not impact Microsoft's People Apps online or in Windows 8.1 and on the Windows Phone. Microsoft allows their users to integrate Facebook and Google accounts to add social updates and contact information from other services to your Microsoft contacts list.
Skype all the way
In order to compensate for the end of Facebook and Google integration, Microsoft is encouraging its users to switch to Skype. The problem is that users might have contacts on Google Talk or Facebook who doesn't have Skype.
The move to dump Facebook and Google, shows how valuable the Skype integration is with Outlook.com. You don't only use the platform to send ext chats but you can also do voice and video calls.