SHOCUT Computers and IT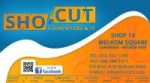 Long Business Description
About SHOCUT Computers and IT:
We are a value added retail store aimed at a higher-end retail market in both computer hardware and software. The Shocut team has a regular retail store with a full workshop which offers a complete value added services both in store and on-site.
The services we provide: Onsite Support, Workshop Support, Repairs to laptops / Computers / Monitors, Installations of networks and computers, Installation of CCTV cameras, Photo designs / Video editing.