Blue Teeth IT Solutions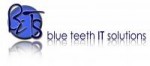 Long Business Description
About Blue Teeth IT Solutions:
At Blue Teeth IT Solutions We are an Information Technology Services company that specializes in providing professional IT services and resources at competitive rates. With our highly skilled resources we deliver cost-effective, reliable, secure, and adaptive IT solutions that suit customers' needs.
We are a Computer and Internet Service Provider. Anything from PC Repairs to CPUs and Servers. We provide ADSL, Broadband and Uncapped. We also do Websites. Website Design and Maintenance, and Hosting.