JOHANNESBURG (February 9, 2017) – Allianz and the Drone Racing League
(DRL) have announced a global multi-year partnership. As the title sponsor
of DRL's race circuit, Allianz will leverage its motor racing heritage to
bring the "Sport of the Future" to a rapidly growing world-wide audience.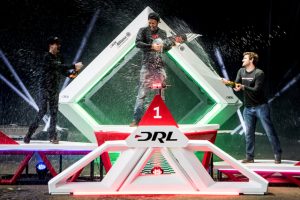 The Allianz World Championship 2017 series will consist of six races to be
aired in over 75 countries starting in June. The races will push the
skills of 16 top drone pilots who will be flying racing drones at over
150KMH through a series of 3-D racecourses in iconic venues across Miami,
New Orleans, Atlanta, Boston, Munich and London.
In Africa, the sport of drone racing is growing more popular across all
ages. Not only that, but the function of drones is also expanding as they
are increasingly being used in conjunction with projects that could
revolutionize medical supply chains and commercial deliveries, tackle
poaching and provide other solutions for in the developing continent.
"This is an incredibly exciting day for The Drone Racing League and a huge
leap forward for professional drone racing," said DRL CEO and Founder,
Nicholas Horbaczewski. "To DRL, Allianz is bringing world-renowned brand
credibility and a proud history of innovative sports partnerships,
including an extensive tradition in auto racing, and an undeniable proof
point that the sport of the future has arrived. The scale and long-term
nature of the deal shows Allianz's genuine commitment to advancing the
sport and will accelerate the introduction of drone racing to audiences
around the world."
"The pursuit of innovation and calculated risk taking are the reasons
insurance was invented in the first place. Allianz is proud to be
partnering with DRL, a true pioneer of today's digital driven sports,"
said drone expert and an aviation practice leader at Allianz Global
Corporate & specialty, James Van Meter. "Drones are already an important
part of our business so we're excited to align with DRL as they harness
the latest technological advancements and reimagine what racing in the
21st century looks like."
The partnership with DRL will allow Allianz to connect with consumers of
the fast growing drone industry. Allianz' aviation insurer, Allianz Global
Corporate & Specialty offers a variety of drone insurance products for
commercial operators, manufacturers, distributors and repairers, flight
schools and training facilities as well as drone service consumers (those
who hire drone operators to fly on their behalf).
Drones also play an increasing role for the company in regards to property
claims assessment and agriculture insurance._nThese machines are already
an important part of the business as they are increasingly being used to
make risk assessments of construction or infrastructure projects easier
and safer. Handling of insurance claims can also be made quicker and more
effective by utilizing drones to survey loss damage after major
catastrophes. Allianz also supports a pilot-to-business marketplace,
FairFleet, which links pilots with businesses in need of drones, offering
insurance coverage and claims settlement.