Apple unveiled its brand new technological innovations, namely the iPhone 6, Apple Watch and their Apple Pay last night.
The Apple Watch is the first new product that was designed and manufactured under Tim Cook's leadership. He wants to restore the company to its former glory.
iPhone 6
Apple unveiled a new surprise at the event by showing off the 4.7 inch screen iPhone 6 and it's larger cousin, the 5.5 inch iPhone 6 Plus. Both of these devices feature the new 64-bit A8 system on a chip with the M8 motion co-processor, that was designed by Apple itself. The clock frequency of the A8 and the amount of RAM still remains a mystery but the storage capacity has been revealed. The iPhone 6 and iPhone 6 Plus can be purchased with a storage of up to 128 gigabytes. That is twice the amount of its predecessors!
The new processors is supposed to be 50% percent faster than the previous A7 and it is more power sufficient. The battery life is said to last 10 hours while you are browsing using 3G or LTE, 11 hours video playback and 14 hours talk time.
Screen resolution has been improved considerably in the largest iPhone 6 Plus. It comes with a full high-definition Retina display with a resolution of 1 920 by 1 080 pixels. This gives it 401 pixels per inch density. The the iPhone 5s, 5c and 6, has about 326 ppi and a dcreen resolution of 1 334 by 750 pixels.
Retina IPS screen have also been improved in the iPhone 6 and iPhone 6 Plus models, meaning that these have high contrast ratios of 1 400:1 and 1 300:1. The previous devices had only 800:1.
Viewing angles have also been widened with dual-domain pixels, Apple said, and there is also a new display zoom feature.
The current 8 megapixel camera has not been replaced but it has been upgraded with a large 1.5-micron pixels and an f/2.2 aperture lens.
An iPhone 6 Plus camera gets optical image stabilisation and Apple claims that there have been several improvements made over the earlier generation of imaging units. These improvements include items such as continuous auto-focus for video and higher slow-mo shooting at 240 frames per second.
The new iPhones will support more than 200 telecoms carriers worldwide with LTE and that includes the three in China. Apple claims they are a key growth market for the company.
Apple Watch
The Apple Watch is the first new product that has been developed and manufactured under Tim Cook's leadership. This state-of-the-art wearable device is connected to the iPhone and it provides its user with health and fitness information while providing communication.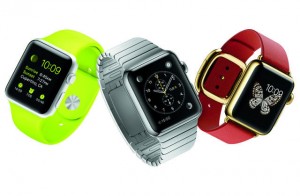 A custom-designed S1 package system has been incorporated into the device and it uses a "Digital Crown" on the side of the watch to access its features. This watch features a built-in Taptic Engine for vibration feedback, built-in speakers and a wireless adapter that can connect via 802.11b/g wi-fi and bluetooth 4.0.
The "WatchKit" development is available for developers who want to create apps and application programming interfaces.
You will need an iPhone 5 or later in order to use the watch.
The Watch is expected to go on sale early next year in the US for $349.
Australia has not received a release date yet.
Apple Pay
Apple has released a new mobile payments method which they have dubbed Apple Pay.
Each iPhone 6 will have the payment service as a standard software. Apple Pay is expected to launch next month in the US. It allows users to pay for items in stores with their mobile devices instead of using a physical credit or debit card.
Apple Watches will also support he payment service and it supposedly more secure than card transactions.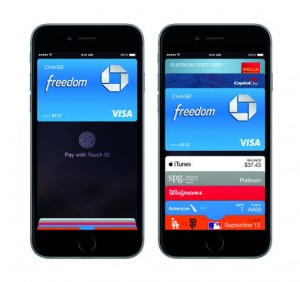 Eddy Cue, Apple's vice president of Internet Software and Services, said the following: "When you're using Apple Pay in a store, restaurant or other merchant, cashiers will no longer see your name, credit card number or security code, helping to reduce the potential for fraud. He also that Apple will not collect purchase histories if devices are lost or stolen but users may use the "Find My iPhone" application to stop all payments from the missing device.
Each iPhone 6 and Apple Watch will be equipped with a new Secure Element chip and a NFC (Near Field Communication) transceiver in order to use the payments service.
There has been no information on when the payments service will be available outside of the United States.
Currently the payment service works with AmEx, Visa and MasterCard that are issued by large US banks. The company aims to work with over 220 000 merchants in the US and all of its Apple stores in the country.