Goldchip Consuling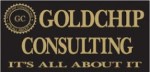 Long Business Description
122 New Extension, Andalusia Park
Jan Kempdorp 8550
About Goldchip Consuling:
We do Web Development, Web design, Computer and Printer repairs  printing of CV's, Letterheads, Letters, Business cards, Business Signs, Rubber Stamps, Taking and printing of Photo's, Selling and installing of Cables, External drives, Flash drives  and Computer hardware components, Computer and sound products are also available. Internet and E-mail services available.
We sell and install cables for computers, printers and DSTV and Toptv extensions.We also do networking .