Glenvista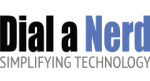 Long Business Description:
About Dail A Nerd:
At Dial a Nerd our main focus is on how we can help you. We are dedicated to ensuring that our clients are provided with a whole host of online and internet services that streamline all networking and connectivity concerns for home, business and school environments.
The Dial a Nerd team is made up of experienced and qualified IT professionals. Whether you are looking for ad-hoc or fully managed IT services in Johannesburg or Cape Town, at Dial a Nerd, we will ensure that you are provided with flawless support that will have your business, school or home network running smoothly 24/7.