Gist (Pty) Ltd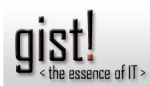 Long Business Description
About Gist (Pty) Ltd:
For twelve years Gist has been an Information Technology partner to small and medium sized business enterprises and schools in and around Cape Town.
Gist prides itself in delivering quality IT hardware, software and network applications, supported by an effective and efficient IT support service to our clients in a partnership relationship to optimize their IT infrastructure and achieve their business objectives. Our products include desktop & laptop computers, servers, networking equipment and software.