PC Square Technologies cc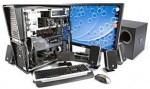 Long Business Description
About PC Square Technologies cc:
With more than a decade of experience in the IT field you can be sure you are in capable hands. We pride ourselves on service insuring that you will experience minimum downtime.
We service the greater East London Area and offer in house, onsite and remote support. With our custom remote support program as long as you have a internet connection we can provide support to your origination no matter where in the world you are.