Gateway Abusolute Data Dimensions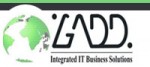 Long Business Description
P.O. Box 21166,
Protea Park,
Rustenburg 0305
About Gateway Abusolute Data Dimensions:
We offers support maintenance and repairs on all of our services, IT products, equipment and peripherals.
Gateway ADD does not regard itself as a computer vendor as such but rather as an IT support company. In order to deliver the most efficient service it imperative to provide the best quality computer hardware and components available on the market today.
The lifespan of a product largely depends on the brand and quality thereof, that is best noted by the warranty that the manufacturer associates with the product. The warranty periods vary depending on the various brands and models. Gateway ADD carries full responsibility, within the warranty period, for the products provided the warranty conditions of the manufacturer are met.
As with all manufactured products, computer and IT related products have numerous imperfections, especially on a software level. Software makes up about 80% of all general computer related errors; therefore maintenance becomes imperative on a constant basis.
Maintenance is often the area where shortfalls occur in larger companies. More often that not, companies are convinced to delve into their budgets unnecessarily. Maintaining a system is not only cost-effective but also minimises loss of productivity. Gateway ADD understands not only the importance of maintenance, but also how vital support is to the company's productivity. This is why we offer skilled, professional help and quick response time at affordable rates.