Simo Solutions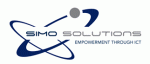 Business Name:
Simo Solutions
Long Business Description:
No.4 Cavendish Road, Vincent
East London 5247
About Simo Solutions:
Simo Solutions is an East London based empowered ICT Company that provides premium level of service with the Eastern Cape region. Our service is toward the Eastern Cape market of government, parastatal and corporate sectors and other regions. The company was founded in 2000 and has now evolved in now led by Zakhe Madala who had since joined the company in 2003. We are Level 1 B-BBEE accredited.