Ituzatech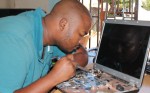 Long Business Description:
43A University Street, Zone 1
About Ituzatech:
We fix all types of laptops. all laptop problems, from Brocken screens, Water damage, Software issues, Hardrive churches, Data recovery. Call us we will make a plan to assist you in a very satisfactory manner. we are very good with water damaged laptops. We have super talented technicians that have a lot of experience in this field.Trust us, what do you have to loose? Laptop Makes we fix, Apple mac, Acer, Dell, HP, IBM, Lenovo, Samsung.