NKR Computers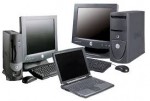 Business Name:
NKR Computers
Long Business Description:
82 Murchison St, C.B.A,
Ladysmith 3370
About NKR Computers:
We offer you the following services at NKR Computers computer accessories, computer equipment, computer services, computer supplies.
We look at you problems and we fix it for you. Any needs that you have, you can come to us.