Datacentrix, a leading provider of ICT integration services and solutions to South African organisations, has announced that it has won the Riverbed® Technology Technical Person of the Year, Technical Partner of the Year and overall Partner of the Year 2015 Award for South Africa. The local awards, recognising regional partners for great performances and business results, were presented at the Riverbed Partner Connect conference in Johannesburg,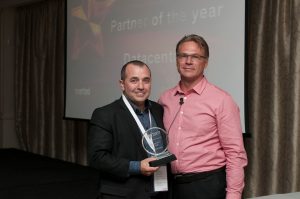 Datacentrix is one of the largest Riverbed resellers in Africa and the first Elite Partner. The company's continuous investment in skills and training and its technical expertise has earned Datacentrix the distinction of being Riverbed South Africa's foremost technical partner. At the awards ceremony, the judges highlighted Datacentrix' honour of being the first African company to receive three Riverbed Authorized Support Partner (RASP) programme accreditations, allowing the company to build closer relationships with customers, and provide valuable services and support, which Datacentrix can leverage to get the full benefit of the Riverbed Application Performance Platform.
Expressing appreciation to Riverbed, Datacentrix recognised the strong partnership between the two companies, which made these awards possible. "The Technical Partner of the Year accolade for South Africa especially brings peace of mind to our customers who can be assured that Datacentrix has certified and experienced resources in place who provide technical guidance and service support with customer satisfaction in mind," said Tony de Sousa, enterprise business unit manager at Datacentrix. "The 2015 awards are a great achievement for Datacentrix and I would like to extend sincere congratulations to all involved. We take our partnership with Riverbed very seriously as we believe in their product, vision and roadmap."
"With this award, we recognise Datacentrix' performance and achievements as a Riverbed partner during the past year in South Africa, and look forward to continuing to work together to help our joint customers improve application, network and business performance," said Hanli Wood, channel sales manager, South Africa, at Riverbed. "In the coming year, Riverbed will be driving greater focus and investment in our most committed and knowledgeable partners. The IT industry is going through one of the biggest transitions in a decade, and Riverbed is working closely with our partners to deliver game-changing solutions, including new software-defined technologies that enable digital enterprises to reach their full potential."
The Riverbed channel ecosystem is composed of a network of focused, dedicated and invested partners across the globe; including technology resellers, solution providers, value added distributors, system integrators and outsourcers, and service providers. Working together, Riverbed and the Riverbed Channel are seamlessly providing solutions and outcomes that transform and optimise fundamental aspects of IT to improve the performance, operational efficiency, agility, and economics of applications, services, networks, and remote and branch offices.